Sturda Weir
Separating the Water From Your Slimes.
The Sturda Weir uses a geotextile mesh to separate particulates from mine water resulting in cleaner water being delivered to your sumps and minimizing wear on your pumps.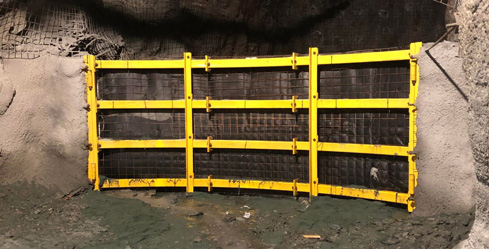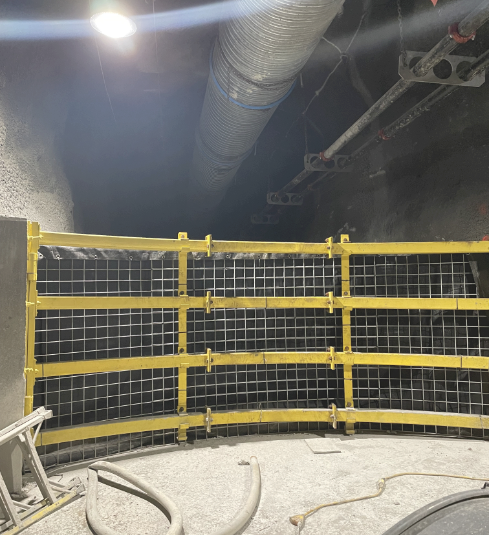 Dirty water is continuously discharged into a drift behind the weir
As the void behind the weir fills up with the dirty water, larger particles settle throughout the dirty sump
The dirty water is then decanted through the Sturda Weir membrane, trapping the fines, and ensuring the water passing through the membrane to the clean sump is cleaner and easier to pump.
Once the void behind the Sturda Weir is full of decanted particulates, the water source is turned off and then the fines are left to dry.
Once dry, the weir gates are opened, and the fines are removed.
Once fines have been removed, the geotextile membrane and layflats are replaced and the weir is ready to be recommissioned.
Benefits:
Limits wear on pumps
Cost savings from reduction in pump repairs
Fewer pump repairs mean less lost time while repairs are being made
Fewer pump repairs also mean workers can focus their efforts elsewhere
First step in water treatment
Process water can be recycled and reused in mine workings.
This means less water being drawn from natural resources.
The Sturda Weir is easy to install and can be completed in one shift.
Opportunity for reclamation of ore found in fines trapped by Sturda Weir.
Reduction in cost of ownership of dewatering system
Reduction in cost of pump repairs can be put towards purchase of Sturda Weirs.
How will the Sturda Weir save me money?
The Sturda Weir will separate the water from your slimes ensuring that the water in your sumps is clean and won't clog or damage your pumps. This limits wear and tear on your pumping equipment reducing the need for replacement and repairs. Not having to stop to rebuild or replace a pump can result in a huge reduction in your cycle times, resulting in significant cost savings.
Not only will you experience direct cost savings as a result of reducing man hours and freeing up your equipment for productive mining, there also exists an opportunity to generate revenue through the reclamation of minerals found in your decanted slimes.
Consider this: The cost of rebuilding ONE pump will pay for three Sturda Weir decanting fences.