Sturda Backfill Barricade
The Sturda Backfill Barricade is a patented fill fence that can be installed in close proximity to the brow.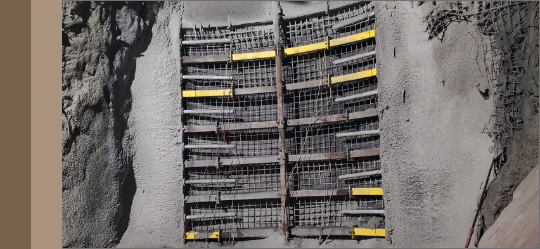 How Does It Work:
The Sturda Backfill Barricade consists of a steel frame with a mounted geotextile membrane.
The Backfill Barricade is installed in close proximity to the brow using the Sturda Deployer
Dywidags are deployed pneumatically to pin the geotextile to the contours of the brow.
Shotcrete is used to seal the perimeter, ensuring containment of the backfill.
As fill is poured into the stope, the pressure acting on the barricade is decreased due to the larger decanting area of the barricade membrane
Benefits:
Engineered for continuous pour of plug
Installing the fence directly at the brow eliminates the need to resill the area
The Backfill Barricade reduces amount of shotcrete
The Backfill Barricade can be installed without any drilling
Reduction in labour hours needed to install Barricade
Design allows for customizable heights and widths to accommodate opening size.